Skydiving Diva
This soap's heavenly scent is created using Patchouli, Geranium Rose, and, one of my all-time favorite essential oils, Frankinsence.  This smooth bar has a long-lasting, bold scent.
◊ 
Spiced Mocha Latte 
Time to get invigorated with my coffee soap!  Yes, I mean coffee.  In addition to the goat's milk, this bar also has coffee, Clove essential oil, Cinnamon essential oil, and is topped with a soft dusting of nutmeg and a dash of cocoa powder.  This is a great exfoliation bar.  Wake up and get clean!
◊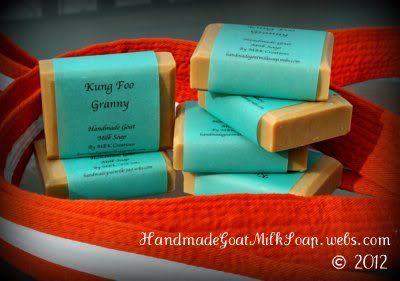 Kung Foo Granny (The NEWLY updated scent)
Add a little hiyah! to your clean routine with a bar of Kung Foo Granny.  The combination of Lemongrass, May Chang (Litsea Cubeba) with Clove and Orange 10x is a fantastic slightly spicy -sweet and oh-so-perky citrus blend.  Finely ground orange peel allows for gentle exfoliation of your skin for a healthy glow.  Turmeric and Madder Root powder help to give this soap is orange color.
◊ 
Sweet Pooh Bear 
 The sweet blend of Lavender essential oil, honey, and ground oatmeal offers your skin a bathful of well-deserved moisturizing and healing.  Lavender essential oil is known for its ability to relieve tension, stress and pain, as well as, disinfect scalp and skin.  Just few of the versatile benefits of oatmeal are:  it provides nourishment and protection for your skin, helps to relieve skin irritations and gently scrubs to leave healthy skin.  Voted one of the top favorites bars by my clients!
◊ 
 Adventurous Turtle
An uplifting and refreshing soap that blends the essential oils Geranium Rose, Tea Tree, Rosemary, with just a dash of Patchouli.  Another one of my invigorating scents whose creamy coloration is accented by the swirls of French Green Clay and Nettle powder, both of which offer gentle exfoliation and cleansing of your skin.
◊ 
Wake Me Up, Baby!
This is my perkiest soap creation and it is a wonderful blending of Spearmint, Pink Grapefruit, and Bergamot essential oils.  This one tops the list for invigoration!  Blue poppy seeds not only give each bar visual pop, they exfoliate and massage the skin.  Thank you to my clients who suggested this scent combo; I am loving it!
◊ 
Whispering Sweet Nothings 
A smooth and creamy bar with absolutely no essential oils in it at all.  If you are looking for a healthy, skin-nourishing bar that is unscented, you've found it!
◊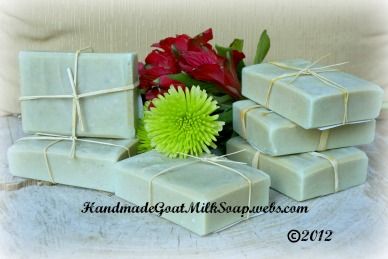 Summer In Savannah 
The sweet smell of summer's flowers and the warmth of a southern breeze has been captured in this beautiful bar using Bergamot, Lavender, and Anise essential oils.  Sweet, warm, and flowery make this bar a favorite of southern ladies.  It gets its funky green-blue color from the infusion Woad powder and Indigo (the picture does not do the coloring justice!).  This bar is also sought by outdoorsmen, as Anise is known for covering human scent.
◊ 
Muscled Farmboy
 Oh, yes.  The blending of the woodsy essential oils Cedarwood, Rosemary, and just a hint of Lavender makes for a gorgeously smooth bar that is manly-scented and yummy to boot!  A personal fav of mine.  
◊ 
 PHOTO COMING SOON!
Muddy Margarita
The absolutely loveliness of Lime essential oil bubbles right out of this bar when you are lathering up!  A smudge of Bergamot and Cajeput essential oils give the Lime the oomph that is deserves.  Swirl it up with the mineral-packed Dead Sea Mud and you have one of our newest creations! 
◊ 
PHOTO COMING SOON!
Moroccan Romance 
 The warm and romantic scent of Ylang Ylang envelops your senses along with hints of Cinnamon, Patchouli, and Bergamot essential oils.  This beautifully scented soap is accented with swirls of mineral-rich Moroccan Red Clay to gently exfoliate and detox.
 ◊ 
PHOTO COMING SOON!
Koala Me Clean 
Classically refreshing with the invigorating essential oils:  Eucalyptus and Tea Tree.  Got a stuffy head?  Not after this soap!  Soap is accented with ground eucalyptus leaves for exfoliation.
 ◊ 
PHOTO COMING SOON!
Walking After Midnight 
 This lightly scented bar is a sweet combination of Amyris, Lavender, and Bergamot essential oils.  It is infused with Alkanet Root and Indigo for a gorgeous dark color.  Great bar for those who like a light-scented soap.
 ◊ 
PHOTO COMING SOON!
Lumberjack My Heart
A tribute to the men of the Great North Woods.  This bar combines the heady scents of Siberian Fir Needle, Cedarwood, Cajeput, and a dash of Cinnamon essential oils to give our guys another great soap choice.  A little Nettle Leaf Powder speckles each bar and gives a nice exfoliation.